For more than 250 years, The 1770 House has welcomed guests with hospitality and comfort, a tradition that continues to attract guests from around the world to the intimate Inn, steps from the heart of East Hampton Village. The venerable home, today a boutique hotel and restaurant, seamlessly integrates historic elegance with luxurious, modern amenities and first-class dining by Chef Michael Rozzi.
The 1770 House
143 Main Street
East Hampton, NY 11937

Phone: 631-324-1770
Fax: 631-324-3504
www.1770house.com

Main Email: info@1770house.com Private Events: events@1770house.com Media/Press: press@1770house.com

Dinner Reservations LINK Room Reservations LINK Event & Promotion Mailing List LINK Map & Directions LINK
Ben Krupinski Builder Cittanuova Restaurant East Hampton Point Wölffer Estate Vineyard Barefoot Contessa
"What separates The 1770 House from so many high-end Hamptonians is the seamless service and sensibility behind it." ★★★★ – Newsday "The staff is professional, the place is lovely, there is firepower in the kitchen" – The New York Times "The circular outdoor patio is a celestial experience" – Modern Luxury Manhattan Magazine "The downstairs tavern is an absolute must . . . a truly killer burger." – Curbed Hamptons "A favorite among celebrities" – Haute Living "Flawless and innovative" – East Hampton Star "There's nothing like going with a good friend and settling into a corner table . . . all is well with the world" – Ina Garten Top 5 Places to Eat in the Hamptons "For your own glamorous getaway, live the high life at The 1770 House" – Cosmopolitan Magazine "A culinary cocoon that cuts across type and hype" – Hamptons Magazine "'Fabulous' American fare with a local leaning; 'very special' surrounds and 'gracious' service" – Zagat
Originally built as the home of William Fithian, the inn dates back to 1663. However, it was not until 1770 when the home was converted into an inn that it gained its name and began an enduring reputation for warmth and welcome. In its many years, the inn has retained much of its original architecture and colonial charm. The steep wooden staircase, exposed ceiling beams and book-lined lounge with antique fireplace are a few of the elements that lend grace and style.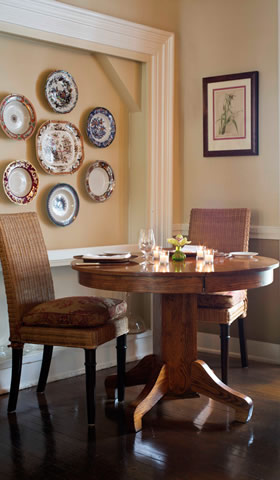 Under one historic roof, The 1770 House guests can enjoy the best of two dining scenes with Chef Michael Rozzi's refined contemporary American cooking. In the main dining room and on the seasonal patio is a sophisticated fine dining menu. In the downstairs Tavern is more casual and traditional pub fare. Each setting has a distinctive atmosphere with The 1770 House signature quality and service.

Dinner Reservations Menu PDF Restaurant Specials PDF Tavern Menu PDF Dessert PDF Wine List PDF
Through a book-lined lounge, kept warm in winter months by a comforting fireplace, arriving guests are ushered into the intimate 40-seat main dining room. Spaciously arranged with antique wooden tables and high-back cushioned wicker chairs atop colorful oriental rugs, the ambiance allows for attentive service, privacy and focus on Chef Rozzi's distinctive and carefully prepared cuisine.


A few steps down the steep staircase takes guests to a different culinary corner at The 1770 House Tavern. Tucked away from the hubbub of nearby East Hampton Village, the Tavern is a refuge for hearty pub fare or a casual spot to enjoy 1770 House's fine dining.


With just six guest rooms and a two-story carriage house, skilled staff personally cater to the needs of each guest for a customized and relaxed stay. Each suite is fitted with plush Frette linens, Molton Brown amenities, snacks from Dean & DeLuca, flat screen television, a private safe and WIFI.

Room Reservations LINK Rates PDF Inn info PDF Guest Specials PDF